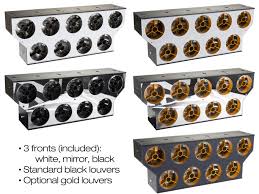 This impressive new projector is developed for use on big concert stages, TV-studios, …
The 9 big lenses are each equipped with 60W CW/WW LEDs that produce powerful narrow white 4° beams. (full on: 175'000 lux @3m)
In a very short time several projectors can be mechanically mounted together to create dynamic "light curtain" effects with unsurpassed power !
The LEDs can be individually controlled to produce tunable white beams, ranging from warm 3000K with high CRI to 6000K cold white.
Very powerful RGB-LEDs light up the black front panel in any desired color.
The units includes 2 extra front panels that can be swapped easily:

The white front panel is used to produce very bright and saturated RGB "glow effects"
The semi-transmissible "mirror" front panel creates amazing creative effects simply by pointing lasers and light beams at it.

The 9 lenses are equipped with black anti-glare louvers, gold color louvers are optionally available. (set 9pcs)
3 DMX-modes: 13, 29 and 45 channels mode for individual control of all beams and functions using 16bit dimming.
Control channel for remote selection of PIXEL-order, dimmer speed, dimmer curve, fan control, …)
RDM-function for: channel mode, DMX-address, temperature control, …
OLED display with backlit touch buttons for easy configuration.
Easy mechanical installation with 2 included omega brackets.
Easily removable suspension bracket with quick locks.
Several M10 fixing points can be used to install the projectors in custom frames.
Very low-noise fans, perfect for use in noise sensitive places like theatres, TV-studios, …
Easy daisy chaining: 3pin & 5pin + Neutrik® PowerCON® TRUE-1 in/out.
Compact size (58 x 22 x 14cm) for easy transport in flight cases!
Optional 60x120cm flight cases (4 projectors) available.
Optional gold louvers (set of 9 pcs).
Co-designed with Marijn Broeckaert.