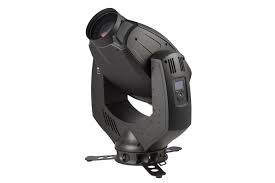 The new impression E350 is the brother of the impression S350 LED Moving Head. With its 30% brighter LED engine and very narrow iris, the fixture fits for a variety of applications. With a color temperature of 7.500K, it is able to create sharp midair effects and bright gobo projections.
The optic offers a 1: 6 – zoom (8 ° – 48 °) and has a very even field with a remarkable light output of up to 9.500 lm.
The color mixing is done using CMY filters, which are specially calculated for the LED spectrum and provide a color mixture from pastel shades to deep saturated colors. If required, GLP's new CTC function provides continuous color temperature adjustment from 2.500 K to 8.000 K
The impression E350 also houses an 8x prism, a 2x frost, a tiltable animation wheel, two gobo wheels, a super tight 14-blade iris, and a 10-color color wheel. Of course, all functions can be used in combination with each other and make the GLP impression E350 the perfect tool for almost any application.
Like the impression S350, the E350 does without a classic base and, with a weight of just 24.5 kg, is one of the real lightweights. The universal power supply, the integrated battery are as self-evident as the optional lumen radio CRMX adapter for wireless DMX.