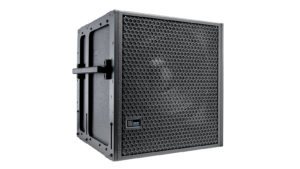 Big-System Sound in a Small Subwoofer Package
LOW-PROFILE LOW-END ENHANCEMENT
The 750-LFC low-frequency-control element's impressive power-to-size-ratio and versatile features make it the right choice for any application demanding superior low-frequency performance in low-profile systems. It pairs perfectly with ULTRA-X40 and LINA systems, extending response down to 36 Hz for deeper, richer bass with total control.
LARGE-SYSTEM LINEARITY, LIGHTWEIGHT DESIGN
The 750-LFC offers the same linearity as its larger siblings, the 900-LFC and 1100-LFC in our smallest, lightest arrayable subwoofer. Its 15-inch, dual-voice coil, long-excursion driver faithfully reproduces source material across the entire low-frequency spectrum, offering extremely low distortion and optimized phase response.
UNPRECEDENTED POWER FOR ITS SIZE
The 750-LFC is driven by a two-channel, open-loop Class D amplifier that provides discrete, precisely synchronized power to each voice coil. This efficient, lightweight design, coupled with sophisticated signal processing, means you can count on the 750-LFC to reproduce low frequencies at high continuous levels with clarity and punch.