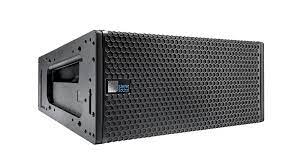 LIGHTER WEIGHT AND SMALLER FOOTPRINT
Easily the smallest and lightest in the series, LINA and its companion control element 750‑LFC bring the inherent linearity, low distortion, and exceptional power-to-size ratio of our line array technology to a wider range of applications and venues.
UPGRADES FOR GREATER EFFICIENCY
Taking advantage of the existing MINA footprint, LINA boasts new drivers and an updated amplifier and signal processing package that, along with an improved power supply, enables higher peak output.
POWER AND VERSATILITY IN AN IMPROVED PACKAGE
Improvements in high-frequency headroom and lower distortion help LINA to faithfully reproduce audio with tremendous power, superior intelligibility, and extremely low distortion.