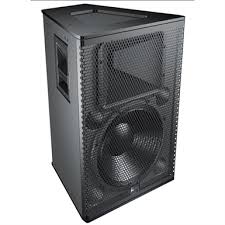 SURE-FIRE PERFORMANCE
Meyer Sound's award-winning UPQ loudspeakers have been core components in both portable and installed systems for more than a decade. Characterized by a high power-to-size ratio; smooth, uniform coverage; and consistent polar response; these two-way, self-powered loudspeakers are available in three coverage patterns to fit any application, from FOH mains in small-to-midscale systems to fills in large systems.
SHARPEN YOUR FOCUS
Predictable performance is key to accurate system design. The UPQ family's signature Constant Q horn design delivers a consistent beamwidth across a wide frequency range, with gentle, uniform roll-off outside its defined coverage area and ultra-flat amplitude and phase response for tonal accuracy and precise imaging.
LIGHTWEIGHT POWER PLAYERS
We've brought the technology from our flagship LEO Family to these stalwarts of our line which are now lighter weight and powered by an all-new built-in 2-channel Class D amplifier with reduced current draw. Count on UPQ loudspeakers to deliver high output with low distortion, thanks to sophisticated DSP that includes limiters, correction filters, phase-corrected processing, and driver-protection circuitry.
READY FOR THE REAL WORLD
UPQ loudspeakers are smooth operators in the field, packed with practical features like Meyer Sound's Intelligent AC power supply, which adapts to any voltage worldwide and provides soft-turn on and transient protection; and optional RMS monitoring that lets you keep an eye on system stats from a remote PC.
Tour-tough enclosures are equipped with convenient attachment points and are compatible with Quickfly rigging options for fast deployment. Weather protection and custom color finishes are also available.