Shure PSM1000 IEM Dual Channel Transmitter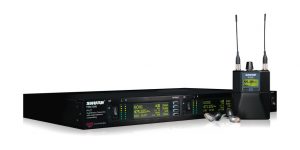 The PSM®1000 Personal Monitor System from Shure brings personal monitoring to its most advanced level yet. The full-rack, dual-channel, networkable transmitter is ideally suited for the demands of professional touring and installation applications, and the diversity bodypack receiver delivers pristine RF signal and audio quality.
Networkability over Ethernet connection enables remote control of transmitter functions and comprehensive frequency coordination via Wireless Workbench® 6 software.
Read our blog post Wireless Audio Software Trends and Shure Updates for a rundown on how Wireless Workbench and ShurePlus™ Channels software enhance the capabilities of Shure wireless systems and make remote monitoring easier.
Features
Touring-Grade Design and Performance
Full-rack, dual channel wireless transmitter housed in a touring-grade, all-metal chassis
Networked control via Ethernet connection vastly simplifies setup for high channel counts and enables remote control via Wireless Workbench® software
Internal power supply with IEC in/out ports enables easy power chaining in the rack
Backwards compatibility with PSM®900 receivers for simplified inventory management
Diversity bodypack dramatically improves signal reception and increases range
Precision front-end RF filtering reduces RF interference for a cleaner, stronger RF signal, fewer dropouts, and less audible artifacts
CueMode allows monitoring of different stage mixes and storing of up to 20 separate channels on one bodypack for quick and easy reference
Backward compatible with PSM 900 transmitters and receivers (in the same frequency range) to facilitate streamlined inventory management for rental and touring
Robust RF Performance and Networked Control