Yamaha RPio622 I/O StageRack (64/16/16AES) Silk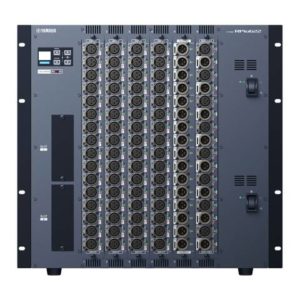 Rupert Neve Quality for All Engineers (RPio622 & RPio222)
Fitted with RY-ML-SILK analog input cards the RPio622 and RPio222 I/O racks offer outstanding emulations of the transformer circuitry and SILK processing featured in microphone preamplifiers from Rupert Neve Designs, immaculately modeled using Yamaha VCM (Virtual Circuitry Modeling) technology.
Recording engineers value Rupert Neve microphone preamps for their appealing natural compression and saturation. SILK processing can take that seductive sonic foundation to new levels with added power and flair. Sounds that tend to get lost in the mix are given new life and luster with a lush analog-like core.
The SILK processing function provided in the RY16-ML-SILK audio interface card Hybrid Microphone Preamplifiers offers two variations: "RED" for sparkling energy, and "BLUE" for solidity and power. There's also a continuously variable "TEXTURE" knob that musically shapes the harmonic components to best suit the source. The benefits of SILK processing are also evident in the way channel EQ and reverb plug-ins affect the sound.
The RIVAGE PM7 makes the coveted Rupert Neve preamplifier sound available to a wider range of engineers who can put it to creative use.
Two I/O Rack Categories to Ideally Capture the On-stage Sound
Yamaha offers two types of high-performance I/O Rack units for RIVAGE PM7 input and output, each providing compatibility with a different audio network.
One is the TWINLANe network, using optical cable to simultaneously carry up to 400 audio channels. Combinations of the RPio622 and/or RPio222 I/O racks and HY256-TL or HY256-TL-SMF audio interface cards allow input via Hybrid Microphone Preamplifiers with analog input stages that take the Yamaha "natural sound" concept to new heights, as well as digital sections with immaculate VCM-technology models of Rupert Neve Designs transformer and SILK processing circuitry that offer outstanding musicality and atmosphere.
Then there's the Dante audio network from Audinate, already standard in CL and QL series digital consoles as well as a range of other Yamaha pro audio products. Dante-equipped Rio3224-D2 and Rio1608-D2 I/O Racks and the HY144-D audio interface card can be combined to provide natural sound input at full RIVAGE PM series quality.
Cleanly and accurately captured on-stage sound provides a perfect foundation for creative processing.